Bouncing Back to Bascom: One staff person shares her story of returning to the office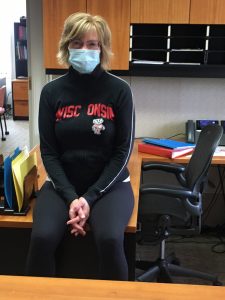 Peggy Ziebarth, executive assistant to the Vice Chancellor for Research and Graduate Education, recently returned to her office in Bascom Hall after working remotely, to begin a transition to face-to-face work.
Ziebarth, who has worked in Bascom for 23 years and at the UW–Madison for 40 years, shares her story of what is like to be back working "On the Hill".
For Ziebarth, being in Bascom is also bitter sweet and  short-term. Ziebarth's last day in the office is July 1 and she will be retiring.
Note: OVCRGE spaces in Bascom have been prepared for the expectation that some employees are starting to transition to on site work. Employees who plan to come to campus should make a request to their supervisor. If the request for returning to Bascom Hall is approved, the dates and times should be entered into the tracking tool, https://bit.ly/bascomlog. The spreadsheet has two tabs – one for Irregular Visits and one for Regular Onsite Schedules.
What have been the challenges of returning to the office today?
I don't have a computer in the office right now – it is at home and I don't have a laptop. But there is plenty to do in the office even without my computer. I'm getting the mail, organizing, cleaning, filing.
And I have to have a mask on. It's going to be tough getting used to wearing a mask while working all day. My advice is to find your most comfortable mask to wear. Also, it helps to have a mask that does not cause your glasses to fog up.
Tell me about your experience coming into the office today.
I have a flex permit and usually park in Lot 34. Today, as I was coming in, I signed into my ParkMobile app to indicate how long I planned to be in the office. I entered the front door of Bascom to meet the Badger Ambassador and show her my green badge (as of May 11th the ambassadors are no longer checking badges). The hallways were very dark.
What are some of the big differences about coming into the office, compared to pre-pandemic days?
Wearing masks tops the list. There are hand sanitizer stations everywhere and a lot of safety signage – on every door.
But, traffic was a piece of cake. I did come in today later than I usually would. But it was not a problem at all.
When I stopped in the office in December to pick up some things, it was eerie then. There was not another soul here. But today I knew there would be some people here. So, if you are coming in, email others who are also coming in and ask to go for lunch and to reconnect.
I also realized today how much I have missed seeing the tulips and the seasons change here, and how beautiful the campus is, the energy, too. I've missed walking through the Allen Centennial Gardens. And you notice changes coming back onto campus such as the landscaping that has been completed out by the new parking structure at Vet Med and  the roundabout out by the WARF building. It's a pretty campus and I've missed all of that.
How did it make you feel being back in Bascom today?
I feel kind of bad for the building and that it isn't getting used to its full potential. I don't know what the new normal will be, but what I do know is that Bascom is a special place and it's iconic. I've missed the building. This is the longest I have ever been out of the office during my 23 years of coming into the office here.
Anything else you have missed while working remotely?
We have to do so much of our work via email when working remotely. And sometimes I'd like to just go talk to someone instead of writing everything out. That will be a good thing about when more people start coming back into the office. We can catch each other to have that quick but necessary conversation. I'm not saying sending an email is a bad thing. That's just me. I'd rather go talk to someone.
Some say they are eager to return to the office to get away from their home refrigerators. What about that?
It is a benefit to get away from the home refrigerator and return to walking back up the hill. I do feel like I put on that COVID 19 pounds that people talk about.
What is your advice for those who are concerned about returning to campus?
First, I feel safe here.
And, the unknown is always a little scary. For a while, you might not know what your typical morning routine will be. It's different from the way it was before the pandemic. You might have to come in a different door than you usually would. You will see more signage and hand sanitizer stations. But at your desk, the only thing that might be different is that you have to wear a mask. The elevators work. The stairwells are open. The lights come on.
If you took a computer home like me, you will have to work through the technology. If you declined a parking permit you will have to work through the commute process. I have a flex permit, which works well when you are coming in part of the time.
If you haven't been in yet, I understand that it can raise your anxiety a little to return.  But once you do it once, you see it is safe.
I've missed my coworkers. My job is very social and I enjoy greeting people when they come into our office. I'm looking forward to seeing people and talking to them in person again.