Data Science Research Bazaar runs virtually throughout February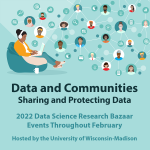 UW–Madison's Data Science Hub is hosting its third annual Data Science Research Bazaar, focused on the theme of Data and Communities: Sharing and Protecting Data. This event will be held virtually throughout February. The Research Bazaar will include lightning talks and interactive discussions on a variety of topics relating to how communities use and are impacted by data, and workshops focused on tools and resources including RStudio Connect, Jupyter Notebooks, and the Hathi Trust Digital Library. In addition, it will feature a career panel and an exhibit of art relating to science and technology.
The Data Science Research Bazaar is an inclusive, community-building event at UW–Madison for researchers, data scientists, entrepreneurs, and community members, including students. While there is no cost to attend, pre-registration is required. View the full schedule and register here.
"UW-Madison's Data Science Research Bazaar is modeled off the international Research Bazaar, a worldwide festival that promotes digital literacy in research and aims to equip researchers with digital skills and tools to do their work more efficiently."